One of the best online marketing strategies for your online store would be to run a Google AdWords campaign to bring high-quality traffic to your Prestashop site. But here's the big problem: Website clicks can't tell you much. Sure, they clicked on your ad but what do your potential customers do right after?
That's where conversion tracking comes in! Without making the most out of this awesome tool, you won't figure out which ads are working and which ads aren't.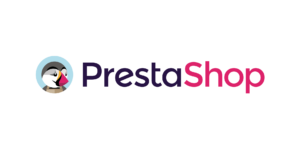 Conversion Tracking Explained
Google AdWords conversion tracking is basically a free tool that ecommerce sites like yours can take advantage of. It has the power to identify what happens right after your potential customers click on your ads.
With conversion tracking, you can track the following as conversions:
Newsletter sign-ups
Product purchases
App downloads
Lead magnet downloads
Calls a phone number from a mobile phone
Contact/survey form submission
Or simply whatever action you define as "valuable" to your business
With this data, you can easily adjust your ad copy, continue effective ads, and stop ineffective ads.
Why You Need Conversion Tracking for Your Online Store
Easily identify which ads, keywords, ad groups, and campaigns are and aren't working
Boost your ROI and make quick business decisions
Attract more customers to your site
Experiment and test ads quickly and effectively
Grow your online business
How to Set up Conversion Tracking
Setting up conversion tracking may be confusing at first—most business owners often get confused. Don't worry, we've got you covered. Simply follow the steps below and you'll be tracking your Google AdWords conversions in no time!
Step 1: Choose a Conversion Source
Before setting up conversion tracking, you need to choose a conversion source:
Websites – Purchases, newsletter sign-ups, downloads, or any action done on your site.
Apps – iOS app downloads, Android app downloads, in-app purchases, or any action within your app.
Phones – Customer calls from a phone number in your site or ads.
Import – Contact forms, survey forms, offline purchases, or any activity that starts online but ends offline.
Step 2: Create a Conversion Code
Open your Google AdWords account.
Click on the Tools and Analysis tab on AdWords.
Click on Conversions from the drop-down menu.
Now, you should be in the All Conversions Simply create a new conversion then click on the green +Conversion button.
Choose a name for your conversion and a conversion source (see conversion source descriptions in Step 1) as well.
Choose a conversion category, markup language (usually HTML), conversion window, and conversion value if needed.
In the next screen, your conversion code will be generated. You can also choose who has the authority to make changes to your site as well. Your code should look something like this: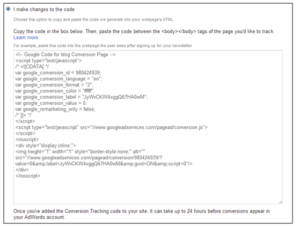 Source: http://www.wordstream.com/blog/ws/2014/02/13/tracking-conversions-in-adwords
Step 3: Extract the Conversion ID and Conversion Label From the Code
In the conversion code you've just generated, look for the following lines of code to extract your conversion ID and conversion label:
var google_conversion_id = 954787374;
var google_conversion_label = "llwyCIKNwgMQrsyjxwM";
The variable var google_conversion_id shows your conversion ID while the variable var google_conversion_label shows your conversion label. You'll need these two for the next step.
Step 4: Download the FREE PrestaShop Google AdWords Conversion Tracking Module
After getting your conversion ID and conversion code, you'll need to integrate Google AdWords conversion tracking tool to your PrestaShop site. The easiest way to do this is to download our FREE PrestaShop Google AdWords Conversion Tracking Module.
Setting this up is pretty easy too. All you have to do is to enter your conversion ID and conversion label in the right fields and—viola!—your conversions can now be tracked. Amazing, right?
So, don't forget to download our PrestaShop Google AdWords Conversion Tracking Module today. With conversion tracking, you can easily analyze and make the most out of your ad spend. Yes, your online store can now grow quickly!