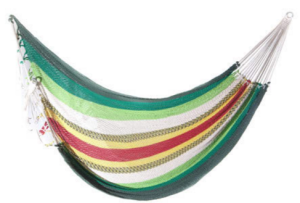 There are some companies (though they may be a minority) that manage to incorporate their entrepreneurship with social responsibility. This may prove to be a bit difficult to those with the mainstream ideas. Traditional business concept is, make all the money you can then give a little to your cause. This does very little to improve anyone's situation.
A true socially responsible business will provide ways for people to help themselves while making money that benefits all involved. Such is the vision of Mission Hammocks. Located in Nicaragua, Mission Hammocks is the manufacturer and distributor of beautiful handmade hammock chairs. Nicaragua is a difficult place to earn a living for the healthy. For the thousands of people who live there with disabilities; finding decent employment is nearly impossible.
Mission Hammocks employees 30 full time employees who otherwise would not have a job. These employees take great care and effort into creating beautiful, exceptionally well made hammock chairs. They are made in beautiful designs using the finest Manila Cotton from Central America. The hammock chairs are strong and come in various styles and colors. If they do not have the hammock chair you are interested in; they will make it for you by custom order. every handmade hammock is made from organic materials and socially responsible.
The response Mission Hammocks has received from the public is overwhelming. Other businesses are taking notice. The general public likes purchasing products that are good quality at a reasonable price while helping people who need help. Many things create disabilities in people. It does not mean that they want pity. No, they want the same things everyone else does. They want to work and make a living for themselves and their families. They want to earn what they are capable of earning! In the case of Mission Hammocks they are able to employ people in a part of the world where there are far too few jobs. The fact that their product is eco-friendly and that their work is appreciated around the world for its unique product that protects the environment makes it good for everyone.
There is no doubt that Mission Hammocks will grow. As they grow financially they will be able to employ more people and perhaps someday they will have other beautiful products available. Until then, we encourage other businesses to take notice and do their part. We also recommend that anyone looking for a unique gift or a wonderful hammock chair for their own indoor or outdoor use, to help the cause by buying from Mission Hammocks. Ordering is secure and safe. What a beautiful way to support caring people. You can rest assured that your purchase had a positive effect on those involved in the making of your hammock chair.