When you get a celebrity to promote your post online, the figures are astonishing for a single post. Yet, at least for now, the nature of a celebrity's promotional message on any social network must remain unambiguous.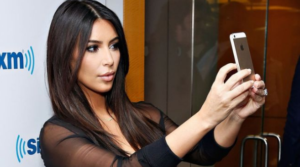 If you get a celebrity such as Kim Kardashian (or any member of her clan that shares equal status) to give her testimony for your company on a social network campaign, the results will be phenomenal. It is obvious what the result will be, you will have tremendous success across the board.
However what the public doesn't see or know is how much it costs companies to pay a famous person to promote your company and be a social marketing influencer. An influencer's earnings cost more than a pretty penny.
Let's immediately satisfy your curiosity.
The Captiv8 agency located in San Francisco, is the intermediary between big brands and the stars that are the big influencers. According to the American agency, which was given to the New York Times, for a person with a social media profile of at least seven million followers, companies will pay up to $75,000 for a single post on Instagram or Snapchat, & $30,000 for a mere tweet. On average, social media stars earn over $187,000 per video.
To say the least, social media stars are beyond expensive. Do the math and take a close look at the queen of Instagram financial affairs, Kim Kardashian West. She has almost 82 million followers and is very accustomed to this kind of collaborations. Companies seek her out constantly and will pay big money to have her be a social media influencer for them.
However, in the last few weeks, something has changed. On Kim Kardashian's Instagram profile she published a post promoting a vitamin product for hair. For the first time ever in the caption, she added the hashtag #ad.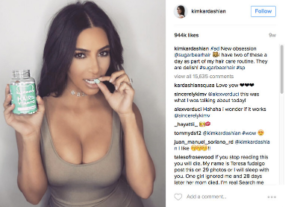 Why did she do this? A recent study conducted in June revealed that markets and PR are always going to rely on social influencer campaigns rather than traditional channels involving celebrity influences.
Recently, also the restaurant marketing experts of Forketers stated that restaurants are increasingly relying on influencers to attract customers.
However, it is not always obvious that behind the actual advertisement and the picture of the featured product, the compensation that is actually involved. The celebrity promoting the product in the advertisement is receiving very generous compensation for their appearance and testimony.
That is exactly why the Federal Trade Commission which protects the American consumers, stated that the promotional nature of a message must be clear with no ambiguities. Not only are there customary rules which must be followed, nut the insertion of an unequivocal hashtag such as #ad, or #sponsored #partner might just be the best way to follow these new rules.
In the United States, it is not only the Kardashian clan that has to change the old captions on social media and follow the new caption rule, as Kim has already done. Generally, the rules will be for any major social media influencer, even those with less follower. Anyone who has an economic agreement with a brand to promote a product or service on social media platforms must state that it is a promotional post.
The scenario of the agreements between brands and their celebrity influencers could change, as the content on social networks explicitly advertised get less engagement than other advertisements.
Many social media influencers already know that the effect of their promotion of products for companies makes the companies big money. People become consumers of the product due to the sole fact of the promoting celebrity. Their star influence is priceless.